Front Box Assemblies, Aluminum Extrusions, Special Doors, Rock Guards, Awnings, Exterior Lighting and More...
Cabinetry/Storage , Winches, Air Curtains, Air Conditioning, Lighting and More...
Axle Assemblies, Air Suspensions, Brakes, Landing Gear Options, Wheels, Tires and More...
Shore Power, Interior/Exterior Outlets, Exterior/Interior Lighting, Electrical Generators, Air Compressors, Air Line Kits and Related Equipment...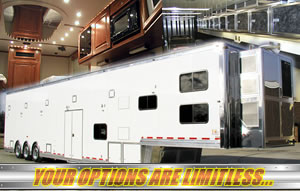 Lounge/Living Area Options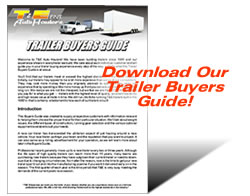 Furniture, Cabinets, Kitchen Appliances, Beds, Bathrooms, Corian Countertops, Granite Flooring and More Will Make Your Trailer a "Home Away From Home".
Need An Options List Sheet to Print and Read Offline?