Let Us Keep Your Current Trailer in Top Condition...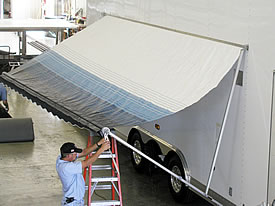 T&E Enterprises can repair or modify most brands of trailers, from single car bumper pull trailers to large multiple car semi trailers. We pride ourselves on fast, high quality repairs that will get you and your trailer back on the road with a minimal amount of downtime.
Since we are one of the leading trailer manufacturers in the industry, we have all the right equipment on hand to repair or modify your unit. From a simple brake job to extensive structural or suspension repairs, we've got the experience to do the job right! We also offer custom services such as lounge additions, custom cabinetry and other trailer add-on components.
Dependability and Capability...just two reasons why T&E Enterprises should be your choice as a service facility!
---
Trailer Repair and Custom Services
Add/Repair Awning

Add/Repair Furnace

Add/Repair Refrigerator

Add/Repair Generator

Add/Repair Air Conditioner

Add/Repair Water Heater

Add/Repair Steps

Add/Repair Doors and Windows

Add/Remodel Living Quarters

Add/Remodel Bathroom

Add/Remodel Cabinets and Counters

Lift Gate Repair
---
Upgrade Your Trailer with High Quality Accessories
T&E Custom Built Rear Lift Gates are available along with T&E Custom 4-Point All Aluminum and Gemini Steel Interior Lifts. T&E Custom Interior Lifts are Available for Door Cars or Dragsters.

T&E is a Dealer for Arrow Awning Products and Accessories. We can supply their parts custom configured and installed for your unique needs. Our other awning suppliers are Carefree of Colorado, and Girard Systems. We can have a custom awning manufactured for your trailer and professionally installed to your specifications.
---

815-426-2761
Call T&E today for a No Obligation Quote regarding repairs, upgrades or whatever your trailer service needs might be. You may also use our Online Contact Form to request service or repair work. We service most makes and models of motorsports style trailers and have the experience to get the job done right the first time.