Custom Built Trailers for Tractor Pulling Enthusiasts and MORE...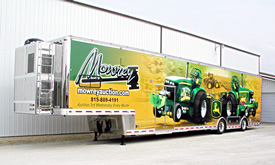 T&E Auto Haulers proudly offers special semi trailers designed with the Tractor Pulling enthusiasts special needs in mind. This type of trailer can also be easily configured for a Monster Truck or similar large race vehicle. Performance, Dependability and Quality Construction are key elements of every trailer we build and every T&E trailer is custom manufactured to meet each owners unique requirements. Plus, we've got the experience in designing our products to custom match them to perfectly fit your needs.
We can custom build your trailer to transport your tractors, replacement parts, data/test equipment or whatever items you need to keep at hand. We also offer lounge options ranging from basic to advanced configurations with a variety of different layouts. Sleeping quarters, kitchen areas or meeting areas are also available as extra cost options. Most likely anything that you can dream up our talented workforce can put into reality!
We manufacture each of our trailers paying close attention to strict quality control requirements and keep the customer involved throughout the entire building process. As a result, all of our trailers pull like a dream and are built for the "long haul". You'll also get top resale value when it comes time to sell too! Why not give us a call today at 815-426-2761 for a no pressure quote on a trailer to fit YOUR operation? If you'd like to learn more about what we have by using an online format, please use our online contact form to express your needs - we'd love to talk informally with you.
---
Jim Mowrey T&E 53' All Aluminum Tractor Puller Semi Trailer - Exterior Views
---
Jim Mowrey T&E 53' All Aluminum Tractor Puller Semi Trailer - Interior Views



Note: Many of the storage cabinet options shown are also available on our smaller trailers. We welcome your personalized storage ideas and can custom build most anything you desire.
---
Upgrade Your Current Trailer with High Quality Accessories

T&E is a Dealer for Arrow Awning Products and Accessories. We can supply their parts custom configured and installed for your unique needs. Our other awning suppliers are Carefree of Colorado, and Girard Systems. We can have a custom awning manufactured for your trailer and professionally installed to your specifications.
T&E can also upgrade your current trailer with custom work area cabinets, awnings ramps and much more. We are also a full service facility capable of a wide range of trailer repairs and maintenance. Please contact us for a no obligation quote. Click here to read more information about our service and repair capabilities.
---
T&E Auto Haulers offers a full range of All Aluminum Trailers designed to meet the needs of motorsports enthusiasts. From our Rivet Side Pull-a-Longs to Pro Semi Trailers featuring the ultimate in Quality Construction...Aluminum Plate Side...we can meet the needs of the most demanding racer. And, we are proud to offer a wide variety of options and amenities to make your trailer custom tailored to Your Operation!
Please feel free to take a few minutes and download an Options List showing available configurations and options for our complete line of trailers. Print it out and mail it to us for a no obligation quote. You may also fill this form out online and return it to us instantly via email by visiting our Quote Request page.